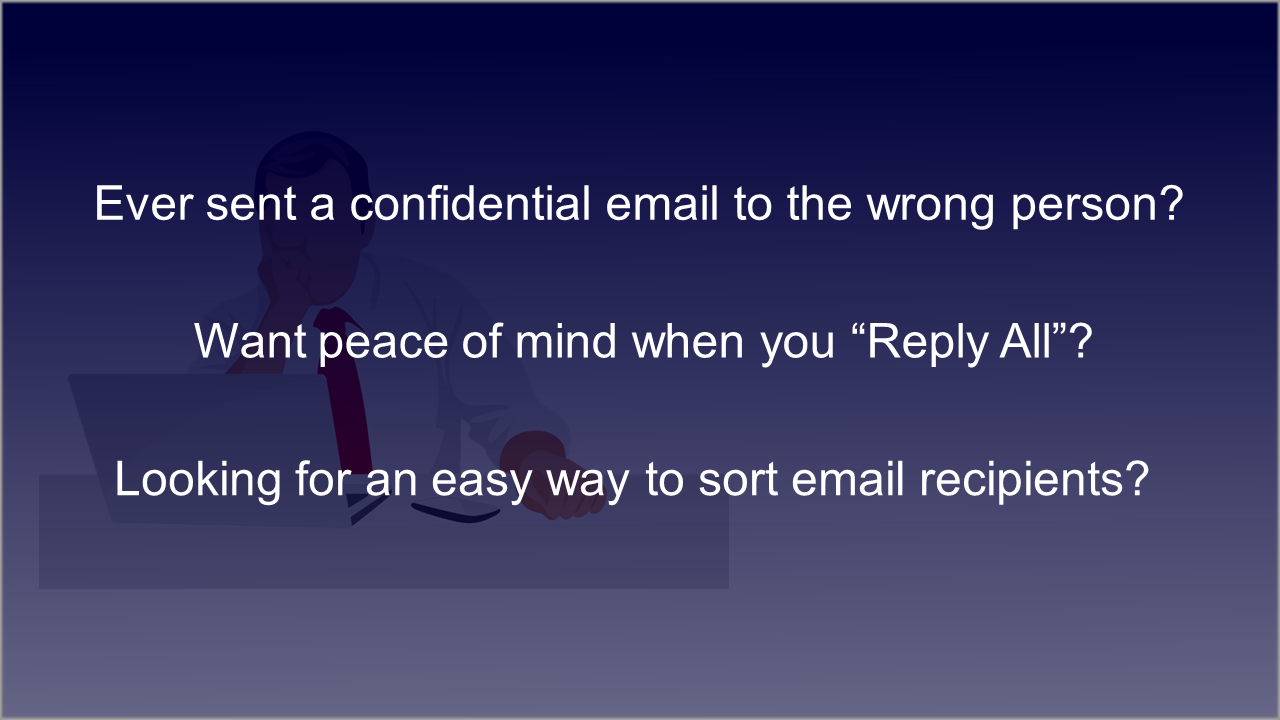 SendCheck is the perfect Outlook add-in you are looking for. It's quick, intuitive, modern, and designed for and by professionals like you.
It enables you to see instantly all recipients by organization and bulk move or delete them.
You may also pre-load a working group list and save oft-used groupings of recipients from different organizations.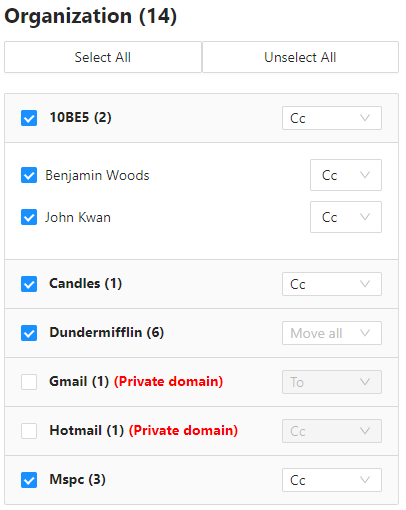 Pricing
SendCheck is competitively priced. Generally speaking, the more users from your organization sign up, the lower is the price.
We offer a 14-day free trial. Click the "Start your free trial" button to claim your free trial. Speak to us first if your Outlook is centrally administered by IT.
Number of users
Price per user per month
(1-year license)
Price per user per month
(3-year license)
>500
Let's chat
Let's chat
>250
USD 5.4
USD 4.0
<250
USD 6.8
USD 5.1
Example Use Cases
#1: I only want to send to some of the entities in the chain.
You've been working 14 hours straight and it's 1am. Do you really want to be checking the recipients one by one with your cursor?
SendCheck enables you to remove everyone from the unwanted entities with a few clicks.
#2: I need to ensure everyone from the client is copied.
It's normally safer to start a new thread. But you need to "Reply All" to ensure no one from the client is inadvertently dropped.
SendCheck lets you see every individual recipient from your client and move all of them to "To" or "Cc".
#3: I worry about sending to the wrong person or entity.
Ever had that gut-wrenching moment when you realized the wrong person had been copied in your email?
SendCheck lets you instantly see all the organizations that will receive your email (even those mistakenly included by the original sender).
We've now updated to Office365 and SendCheck works very well within Outlook…it worked seamlessly – thanks!
Instead of looking at the working group list for the matter, you could simply load everyone from the working group or just those from specific parties that you need. Especially, I believe that SendCheck could add the most value in really big projects (e.g. IPOs, controlled auctions etc.)
3a4b6dWe have a number of Sophies/ Sofias, internally and externally at clients, and SendCheck picked up my accidental inclusions / auto-filling, making it easy to see which were the wrong addressees.
Minimum requirements
Your organization requires Microsoft Azure Active Directory and your users require:
Operating system: Windows 10 (64-bit)
Outlook version: Outlook 2013/2016/2019, or Outlook for Windows (Microsoft 365)
Memory: 2 GB RAM
Physical storage: 2GB of available disk space
Processor: Dual core, 1.6 GHz
Display / Graphics: 1280 x 720 screen resolution, in-built graphics
All processing of data from your users' email messages is completed in the Outlook desktop client.
Contact us
Email us at info@10be5.com or contact your sales representative contact.